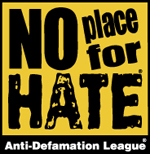 Preparing students for success requires providing an education in which social, ethical, and academic developments are inseparable goals.
No Place for Hate®, a program of the Anti-Defamation League, seeks to provide a model for combating intolerance, bullying and hatred. It provides a unique opportunity to incorporate new and existing programs with one consistent message and connects a participating school to a larger initiative taking place in the region and in other states. Schools have the opportunity to become designated as No Place for Hate® by completing three steps during the school year.
1. Establish a No Place for Hate® Committee comprised of faculty, administrators, parents, students, Parent/Teacher Association and community members to spearhead the program. Each school's No Place for Hate® Committee provides a useful foundation for developing infrastructures that are better equipped to handle school conflict and community concerns. The first task for the No Place for Hate® Committee is to complete a School Assessment, designed to answer questions about the demographic make up of the school, what types of resources are present and needed, and what concerns each member identifies as priorities.
2. Adopt the Resolution of Respect affirming a commitment to respect for diversity. The Resolution of Respect affirms the school's commitment to creating an inclusive environment, where an individual feels safe and comfortable coming forward if victimized by hate or discrimination. It is displayed publicly as a constant reminder of the commitment.
3. Complete at least three anti-bias projects. Projects should expose young people to other cultures and faiths, celebrate diversity and promote respect for differences. Ideally, projects will help young people put current events into historical context, challenge them to think critically and evoke a sense of "community."
Upon completion of three projects, Committee members will complete a second questionnaire that will evaluate whether goals have been met and assess changes in the school. A school is then eligible for designation as No Place for Hate® and receives a banner to commemorate the milestone. Please call 216.579.9600 for more information